Workforce Planning – a strategic activity
Workforce planning is a continual process seeking to align the capacity and capability of the workforce with the needs and priorities of an organisation to achieve strategic outcomes.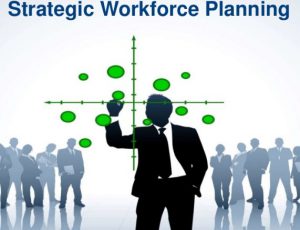 Ann Cotton, Director Schaefer Center for Public Policy University of Baltimore said, it begins with a sound strategic business plan, reliable and available workforce data, a strong internal and external analysis, and a keen awareness of trends at the local and national level that impact how an organisation does business and the types of skills an organisation will be able to attract.
More formal definitions include that of the National Academy of Public Administration: Strategic workforce planning is a systematic process for identifying the human capital required to meet organisational goals and developing strategies to meet these requirements.
The International Public Management Association for Human Resources' (IPMA-HR) definition is similar, but more comprehensive: Workforce planning is the strategic alignment of an organisation's human capital with its business direction. It is a methodological process of analyzing the current workforce, identifying future workforce needs, establishing the gap between the present and the future, and implementing solutions so the organization can accomplish its mission, goals, and objectives.
The Australian Public Service Commission says workforce planning is a business-driven and business-owned process. It's about knowing your organisation's business and using this knowledge to position your organisation's workforce to best deliver your business outcomes and manage workforce-related risks. Workforce planning is a process of identifying the workforce capacity and capability your organisation needs to meet its objectives, now and into the future.
Deloitte Human Capital Trends 2011 said, given the importance of talent and people, it's time to move beyond instinct, gut, and tribal wisdom in making workforce decisions. If you are not using workforce data and analytics to drive your talent decisions, you may be behind the curve.
Auditor General Victoria Report 2004 said, workforce planning is determining and shaping the capacity and capability of the workforce that is needed to achieve an organisations goals and directions.
It is a process of assessing the current workforce capacity and capability, forecasting the future workforce requirements and identifying gaps to perform efficiently and effectively and therefore achieve the organisation's mission. It drives sustainable workforce development strategies in retention and recruitment, learning and development, organisation structure, succession planning and job design.
Workforce planning underpins:
• Strategic and business planning
• Budgeting processes
• Identification of workforce demand and supply issues
• Executive decision making
• Assessment of risk and risk mitigation
• Identification of roles of interest or critical roles
At its simplest, workforce planning is about trying to forecast the future demand for different job functions and seeking to match this with supply. Workforce planning is an evidence-based HR function which aligns organisational strategy with those who deliver on that strategy – people.
Posted by: admin
---