Successful workforce planning and coaching is collaborative. A respectful partnership between you and our team of experts – working together towards a single goal.
Our small but impactful team calls on their experience in leadership, strategy, and talent management to identify and help manage your executive-level challenges. We offer guidance, support, and encouragement every step of the way. We're committed to your long-term success.
Maria Newport
Maria brings with her a wealth of personal leadership experience within global organisations and as an entrepreneur. Her education and training in organisational psychology and coaching empowers her to coach and mentor senior executives and high-potentials to achieve their personal best. Maria's experience includes:
Managing and coaching high-potentials in global corporations and professional service firms
Designing and facilitating enterprise-wide leadership, coaching and career development workshops with global organisations in the financial services, technology, pharmaceutical, engineering and manufacturing sectors
Overseeing coaching communities of practice and providing training, coaching supervision and support to accredited coaches
Coaching employees in conflict and mediation
Corporate governance (serving on the Board of Coeliac NSW & ACT; the Board of Management of Playgroup NSW, Inc.; and as a Committee Member and Professional Issues Officer for the Women Lawyers Association of NSW)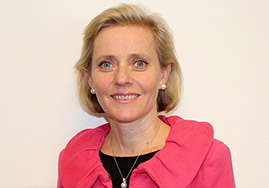 Areas Of Expertise
Leadership development
Executive coaching and supervision
Facilitating enterprise-wide leadership, coaching and career development
---
Deborah Mann
Deborah's vast experience in executive-level training, coaching, change management and strategic planning, span the public, private and community sectors.
People driven, yet business-minded – her greatest passion is to help people understand the interplay between human and technical systems and through this, improve their organisation's productivity and bottom line. Deborah's experience includes:
Developing and facilitating strategic planning, change management and performance interventions for private sector, community and local government organisations
Developing competency-based performance systems and training programs for local government, statutory authorities, higher education and private sector organisations
Designing, developing and facilitating leadership programs for executive and management teams
Coaching CEO's, senior executives and frontline managers in strategies to improve performance and productivity in themselves and their teams
Developing and facilitating workshops in the area of building high performing teams in small, medium and large organisations
Advising, coaching and supporting individual HR/ER managers and HR teams in the development of strategic and operational initiatives, policies and practices.
Areas Of Expertise
Leadership development and coaching
Building high performing teams and individuals
Developing positive organisational culture